It's about to be 1 year since we started Fulmen Records, can you believe it?
It sounds like it's been yesterday, but so much happened since then:
– We released 2 EPs: Rätsel & Neubauten
– We had a lot of partys, concerts, performances and events
– We have been working with the most amazing people ever
Thank you so much! We wanna celebrate with you all and of course we're gonna do it the way we should: dancing.
One year after the Rätsel Masked Ball, comes the Fulmen Anniversary. Friday November 13th in Loftus Hall, Berlin.
https://www.facebook.com/events/1505640956416811/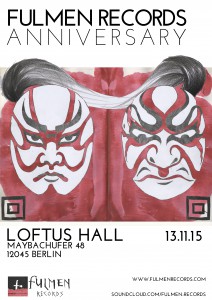 Expect the Fulmen DJ Crew to burn down the dancefloor with the best music in town: from House to Techno with an Acid touch.
LINE UP
► LOLA TIENE PELIGRO
http://bit.ly/1K8hY6L
► UTOPYK JONES & MAPER
http://bit.ly/1Qr6Irr

► EL FULMINADOR
http://bit.ly/1hDNSkL
► SACV
http://bit.ly/1LNofMH
Plus spontaneous performances inspired by Kabuki Theater, done by the Performance & Choreography Departments.
Open from 23:00 / Open end. Entry 8€. No dress codes, no people selection, no stupid rules. Total freedom, no taboos.
RA: http://www.residentadvisor.net/event.aspx?765008

Wir freuen uns auf Euch ; )
Fulmen Records